Togbe Afede returns over GHS365k ex-gratia paid to him
The Paramount Chief and the Agbogbomefia of the Asogli State, Togbe Afede XIV has returned GHS365,392.67 paid to him as ex-gratia by the state for serving on the Council of State between 2017 and 2020.



The businessmen man in statement said he does not think it is appropriate to be paid ex-gratia since he was paid monthly for serving on the council of state.
In a statement Togbui Afede said he is against the payment of ex-gratia and has been looking for ways to return the money when he was notified that it had been paid to him.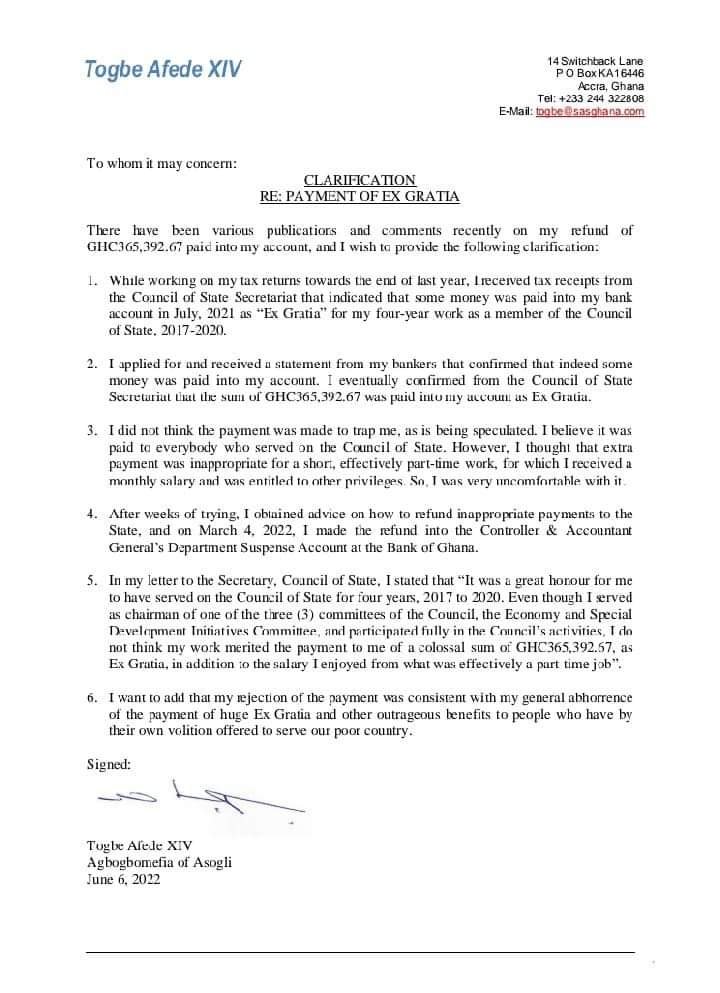 An ex gratia payment is an amount of money that you would receive by your employer as a termination payment when you have left your employment. Such a payment is over and above what you are entitled to be paid under your contract of employment, so for example, it would not include your notice or holiday pay.
In Ghana all appointees and officials who are covered under article 79 of the 1992 constitution take ex-gratia. The payment is  abhorred by majority of Ghanaians.



Send your news stories to
Post Disclaimer
DISCLAIMER: The Views, Comments, Opinions, Contributions and Statements made by Readers and Contributors on this platform do not necessarily represent the views or policy of Ghana News Avenue corporation and thereby have no association to the company